Private accommodation
on Hvar
In our vacation house on Hvar, a small pension is housed in which we also offer meals (dinner). In our house on Hvar in the evening you can also taste different wines of our homemade wine, to the delicious food we prepare on request (on site)!
Different wines (varieties and vintages) waiting to be tried by you, including some very good wines. Wine connoisseurs will be delighted.
Dinner is offered several times a week (only according to agreement). Here we will treat you with delicious Dalmatian and international dine.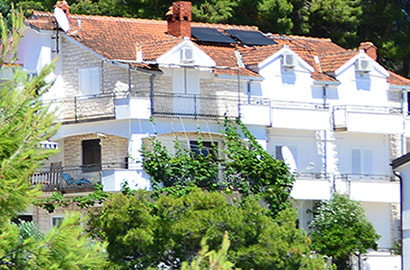 Private accommodation on Hvar, holiday homes on the island of Hvar in Croatia.
Looking for a holiday home in Croatia? Resp. Accommodations in Croatia?
Close to the sea? On the island of Hvar? In top location? Apartments with air conditioning? And with Wi-Fi? A gently sloping beach (children and elderly people) should also be in close proximity to the house and the apartments? Then our house on Hvar is ideal!
Holidays on Hvar, beautiful apartments on Hvar directly by the sea!
You want to spend your holidays vacations on Hvar in one of the most beautiful bays on the island of Hvar? Our house is located in a beautiful bay, overlooking the sea and is only about 25m from the beach. The House 2 is even only about 10m from the sea.
Both houses are located on Hvar, we rent apartments directly on the sea, on the south side of the island of Hvar, in a small fishing village called Zavala:, in a beautiful bay with only 6 holiday houses. Crystal clear water and a very quiet location characterize this bay. Ideal for families with children, divers and snorkelers. In our house, vacation home 1 on Hvar we rent 6 apartments and 1 room. Furthermore, we have in this House on the ground floor rooms for dining and wine tasting. In addition, we rent in a the vacation home no. 2 more apartments on Hvar close to the sea. On the picture below left you can see the vacation home 2 and the on the beach in front of the house. This House (2) on Hvar has 5 apartments.
Holiday homes on Hvar in House 1
The apartments on the Island Hvar in Holiday House 1. (left picture)
Vacation rentals on Hvar in House 2
The apartments in Holiday House 2 on Hvar island. (left picture at the bottom.)
Holiday house on Hvar
Apartments in holiday house 2 on Hvar.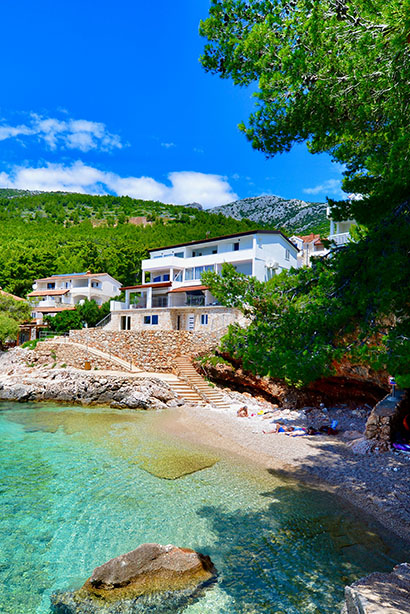 Private accommodation Hvar
In House 2 we rent further private accommodations close to the beach. In this Holiday House, we have 5 apartments next to the sea on the island of Hvar.
Apartments on Hvar in Croatia, with stunning sea views and only 10m from the sea.
Why choose this holiday home on Hvar or one apartment in this holiday house?
For vacationers who want to spend their island vacations close to the sea and beach, and enjoy all day the stunning 180° sea views from the apartment and terrace, and who also want having the children in mind who are at playing on the beach, this is an ideal Holiday House on Hvar.
What this vacation home on Hvar distinguishes from other vacation rentals on Hvar:
Closer to the sea and beach on Hvar is not possible! From the end of the terrace on the ground floor, there are only about 10m up to the sea and beach! Fantastic location on the island of Hvar. Hard to beat, not even on Hvar but also in Croatia. (if that's even possible.)
All apartments in this holiday house on Hvar have 180° sea view, balcony or terrace. The house with the apartments is located in one of the most beautiful bays on Hvar.
Four apartments have at least two bedrooms. So they are also suitable for 4 adults.
Only one apartment in this vacation home on Hvar is ment for couples (2 people with maximum one child). This is apartment "Mid".
All apartments in this vacation home (despite apartment MID") have at least 2 separate bedrooms and a dishwasher in the kitchen.
Apartments on Hvar only about 10m from the sea
Apartments on Hvar with magnificent 180 ° sea views
A few meters to the beach from the accommodation

Great location, not only on Hvar!